This morning I took my niece back to the airport. My aunt, uncle, and cousin left yesterday. We spent Friday, Saturday, and Sunday at cultural institutions. It was great fun but also exhausting.
I showed them behind the scenes at BNHM and they were all impressed. After seeing someone stuffing a bird for a study skin my aunt said, "I never imagined that this was even a job that someone did!" She said what happens at the museum makes her job (retail) seem incredibly dull and unimportant. I'm glad that a few more people in my extended family have a greater understanding and appreciation for what I do.
The girls, both 8 years old and in second grade, had a blast. I can't believe how much they giggled and laughed, especially before 8 am! Their laughing made me laugh too. I should laugh more.
Also, our niece is so much fun. She asks
fantastic
questions. She reads books like hungry grad students eat free food. In two days she read 1/2 of
The Complete Calvin and Hobbes
. I'm sure she could have finished it except that we took her to a museum (where she went to their library and read more books). Her favorite t-shirt is this one from
xkcd
that we gave her for Christmas.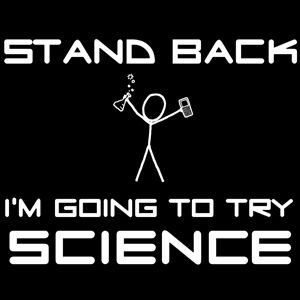 Perhaps I would be more excited about everything that I have to catch up on this week if I made such a grand announcement before sitting down at my desk to work.